Frank Marinucci & Meghan Wallace
Subway Reaper - Raif Wolfe Series
A cagey Philly Homicide Detective partners with an unyielding FBI Agent in a series of energetic action/drama. Each volume is chock-full of excitement. Starting in Philadelphia, then going to Las Vegas, London and beyond, Frank and Meghan become the quintessential crime fighting team. If only life, love and the job were that uncomplicated.
This Series of Horror/Thrillers will remain under R Doc Wilcox's pseudonym Raif Wolfe as it has been published.
Skylar Janssens was done wrong and takes to NYC's underground to reap his revenge. With hundreds of miles of subway tunnels and a mind bent on revenge, the retaliation factor ramps up quickly, and Skylar offers no mercy.









The Series by Raif Wolfe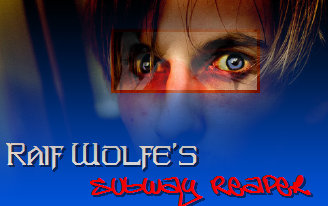 ©2023 Xaak Studios
©2023 SyKoCinematic
©2023 Bama Films
©2023 Raif Wolfe, Xaak Doyle
Where Imagination Meets The Page
And Your Dreams Become Reality